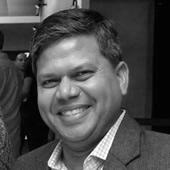 Sanjiv Goyal – Member of Board of Directors
Sanjiv is a global business executive, he has worked in six continents. He is CEO of Droisys, which he co-founded in 2003. Sanjiv is considered a thought leader on the Innovation and has a keen passion for the future of mobile and engagement. Sanjiv is a successful serial entrepreneur and pioneer of emerging technology applications in business. He brings 26+ years of business acumen from several Fortune 500 companies, most notably from IBM, Autonation, Mastech, GMS, and RMS.
He grew with progressive leadership roles in corporate strategy, business development, and management. Fortune 1000 organizations like Kellogg's, Heinz, Caesars and many more trust Droisys for Innovation. It's not enough to just have a good idea. Only when you act, when you implement, then it matters. Under his leadership Droisys has built amazing solutions which leverages emerging technologies; ibeacons, Augmented Reality, NFC, brain sensors, Virtual Reality and more. He advises CPG, retail and casinos on consumer engagement and consumer marketing.
Sanjiv is an active angel investor with a successful high-tech portfolio. Sanjiv has been pivotal in mentoring promising new entrepreneurs and has won awards for several of his innovations; most note-worthy, is the location based contesting platform. Every single bottle of Heinz ketchup served in restaurants is labeled with it. He has architected first automatic vehicle location system of Singapore in 1996, since then he is focused on Innovation.
As Angel Investor, he is looking for startups leveraging mobile in Digital marketing, Retail, Healthcare, Gaming, Hospitality. He has invested in Vriti, Fanminder, Admaxim, Appgravity, Gameloot, Raffity, Ebsavvy, Pregame, Mobifusion, Edseva, Demars Group, Mobiglue, Pyxa, SampleUP, iShopthrifty, Mobiglue, Direct 401K and more.
He believes in supporting our youth and focuses his philanthropic duties on children's charities. He is supporter of Christian Children fund, Ekal, Olive Crest and more. Sanjiv is on the board of Pratham USA. Born in Meerut, India, he has earned a Master's degree in Technology from Indian Institute of Technology (IIT) in Delhi, India. Sanjiv resides in silicon valley.