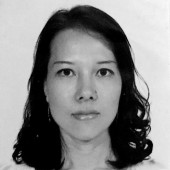 Phearom Oun – Country Advisor
Phearom was born in Shihanuville and was raised in Ratanakiri and in Laos, where she spent several years of her younger years during the civil unrests times in Cambodia. Her professional career before becoming a full time mother to 4 children was with the National Bank of Ratanakiri. Her professional training was concentrated in Personal Development, Finance, Management and Policy Development in banking industry.
In 2008, Phearom and her husband, Rithy opened a successful boutique gem stone and indigenous art gallery in Siem Reap.
Phearom's passion is with her four young children, and in helping nongovernmental organizations to help her home country especially among the indigenous people in her home province Ratanakiri. She and husband Rithy and their four children live in Siem Reap.