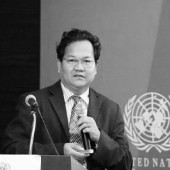 Noy Shoung – Executive Advisor
Noy Shoung is a philanthropist, computer technologist, mathematician, and an entrepreneur. He has served as advisor to National Secretariat General for the Kingdom of Cambodia, and was a Vice President of the Cambodian National Institute of Posts, Telecom and ICT. He is founder of several organizations and recently Cambodia Mathematical Society, where he served as a Chairman.
Mr. Shoung's passion is in helping rebuild Cambodia and help break poverty for all his countrymen. He has years of experience and involvement in helping numerous other NGO's whose work are in Cambodia.
Noy Shoung was born in Kampuchea Krom, Cambodia and he was a Khmer Rouge survivor at a young age.
Please find his complete professional biography at