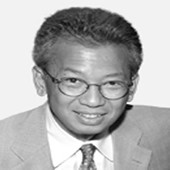 Nerou Cheng – Senior Executive Advisor
Nerou is the Managing Partner for NCheng LLP. Nerou founded NCheng LLP in 1989 working with NYC contract audits. Under Nerou's leadership, NCheng LLP grew from a small firm providing solely audit services to an accounting firm with 80 staff and over 175 clients with two independent departments providing Financial Management Services as well as Audit.
Nerou has more than 30 years of experience in auditing and accounting services, holding a Certificate in Public Accounting from PACE University, an MBA from Ball State University, and a BSBA from Georgetown University. He is a member of AICPA and NYSSCPA and has served on the NYSSCPA's real estate, non-profit accounting, community affairs, and minority recruiting committees.
As an immigrant from war torn Cambodia, Nerou states, "My life experience allows me to be comfortable in all situations; but more importantly, people from all walks of life are comfortable with me." Nerou's unique personal history combined with his accounting and audit expertise makes him a strong, capable leader.
Early on Nerou believed in the potential of technology and outsourcing for accounting solutions. He was among the first to embrace Inlacct, financial solutions software to his growing organization. Intacct is a winner of the prestigious SIIA CODiE award for "Best Financial Management Solution" in 2009 and 2011 .
His board participation has included Pan Asian Repertory Theater, The Chinese American Planning Council, Gilda's Club Worldwide, and most recently, Friends Without A Border. Nerou resigned all other board positions to serve Friends Without A Border, and Angkor Hospital for Children (AHC), a model hospital serving the children of northern Cambodia.