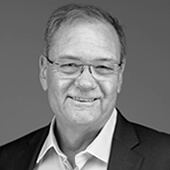 Michael Kovalich – Chief Financial Officer and Member of the Board of Directors
Michael Kovalich has been Coral Tree's Chief Financial Officer for the past five years.
Mike also holds financial and business consulting positions for other organizations besides Coral Tree. He is Chief Financial Officer for Vanguard Music and Performing Arts, a youth music appreciation non-profit that sponsors the nine-time world champion Santa Clara Vanguard Drum & Bugle Corps. Mike is also Chief Financial Officer for SPARC International, a computer chip design consortium, Financial Systems consultant for Ropers Majeski, (law firm) and Consulting Director for the Bronco Venture Accelerator at Santa Clara University. Mike also sits as advisory board member for Bay Street Capital Holdings and Santa Clara Ventures.
Mike serves his local community as Chairman, Citizen Oversite Committee for government spending under Santa Clara County's measure K spending initiative and as a certified mentor for SCORE, a volunteer business mentoring service sponsored by the nation's Small Business Administration (SBA).
Previously Mike held a number financial and business management position at Frost & Sullivan, a global research firm, Business Director for Greenberg Traurig's Bay Area offices (large international law firm), Chief Financial Officer for Werber Shandwick's Technology Group, (public relations), Controller for Crown Zellerbach (forest products) and Administrator for number of other law firms, corporate legal departments, and small businesses.
Mike holds a Master of Business Administration degree from California State University, Hayward and a Bachelor of Science from Louisiana State University.
Mike originally is from New Jersey where he grew up until leaving for Louisiana to continue his education after high school. He is married to Deborha Dennis for 35 years, raised three children and in the proud grandfather of two grandchildren with another expected early 2022.