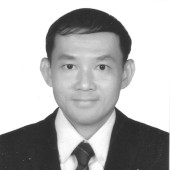 Dy Meng – Country Programs Director
Dy was born in Cambodia and was a Khmer Rouge survivor at a very young age. He grew from impoverished background to find success for himself and his family he now has.
After obtaining his education and received a Bachelor's degree in Hotel and Tourism, Dy worked as at several high end hotels including a position as Front Office Manager at Le Royal Raffle hotel. He later found employment with the American Assistance for Cambodia, an NGO whose work was to education and help rebuild lives in Cambodia where Dy helped the rebuilding of nearly a thousand of schools throughout Cambodia between 2000-2007. In his dedication to help the poor of Cambodia, Dy has been honored to work alongside with Nicolas Kristof, a reporter of the New York Times, in the project to fight again human trafficking in Cambodia. They have rescued girls from brothels and provided them with practical skills training to rebuild their lives.
Dy Meng's passion is in helping fight poverty and help educate the impoverished families. He believes in educating women to have a better chance for better lives, to protect themselves and give back to their communities.