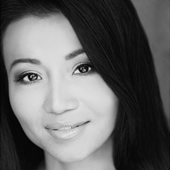 Jacqueline P. Bhagavan – President and Member of Board of Directors
Jacqueline P. Bhagavan was born in Cambodia and lives in the San Francisco Bay Area. Her childhood ended early when the Khmer Rouge practiced some of the most heinous torture, famine, and genocide in the world. Over 1.7 million people perished. Through her family's tenacity they escaped the regime and embarked on a difficult and treacherous trip to America, after spending time in a refugee camp. While she suffers from an undiagnosed dyslexia, she went on to major in communications at California State University, Sacramento. 
Jacqueline has always been a survivor and works hard at everything she does. She believes in education and believes in helping girls achieve their goals and be their best selves. 
Having watched her mother's entrepreneurial abilities while selling chicken rice, and snacks in the Thai refugee camps, Jacqueline developed the same entrepreneurial spirit. In an effort to help women with their complexion, Jacqueline became a licensed esthetician. She started her own skincare line, Lavanya and established a well respected online show, Complexion Kitchen. On her show, she demonstrates ways for her audience to achieve beauty both internally and externally through sharing recipes, beauty tips, and wellness activities. Currently, Jacqueline is the founder of the startup, Fits4Humanity, Llc, a marketing company specializing in women's intimate apparel. In sharing her experience and inspiring women, Jacqueline was one of the writers of the book "We Got Mojo! Stories of Inspiration and Perspiration." 
A wife and mother of two, she was crowned Mrs. California in 2015/16. She went on to compete in the highly coveted Mrs. America competition, where she won Fabulous Face and was one of fourteen finalists. This unlikely journey of a little girl who escaped Cambodian genocide, now the Face of America, is a true story of American grit.
Jacqueline will combine her personal triumphs and business acumen to expand CTEF's mission and influence.